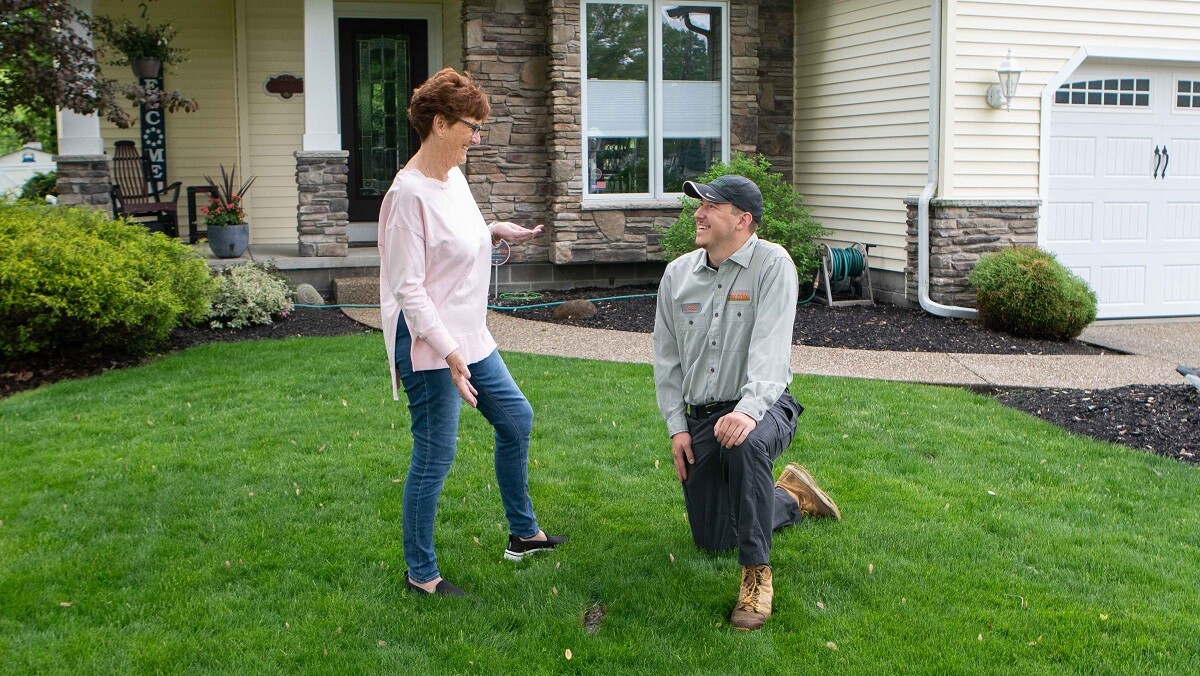 What Kind of Grass Seed Is Best for My Northeast OH Lawn
Across the country, there are various regions that have different conditions that pair best with certain grasses.

And when you're looking to fill in bare spots or patchy areas, you want to overseed your lawn with the right grass seed type to ensure success.

The best types of grass in Ohio are cool-season grasses. These grass types grow best in the northern U.S. states. Cool-season grasses green up much earlier in the growing season (mid-spring) and stay green longer into the fall before going dormant in late fall. In fact, they put out 60% of their top growth from March to June, continue growing underground from September to October until the soil freezes, and finally go dormant from December through February.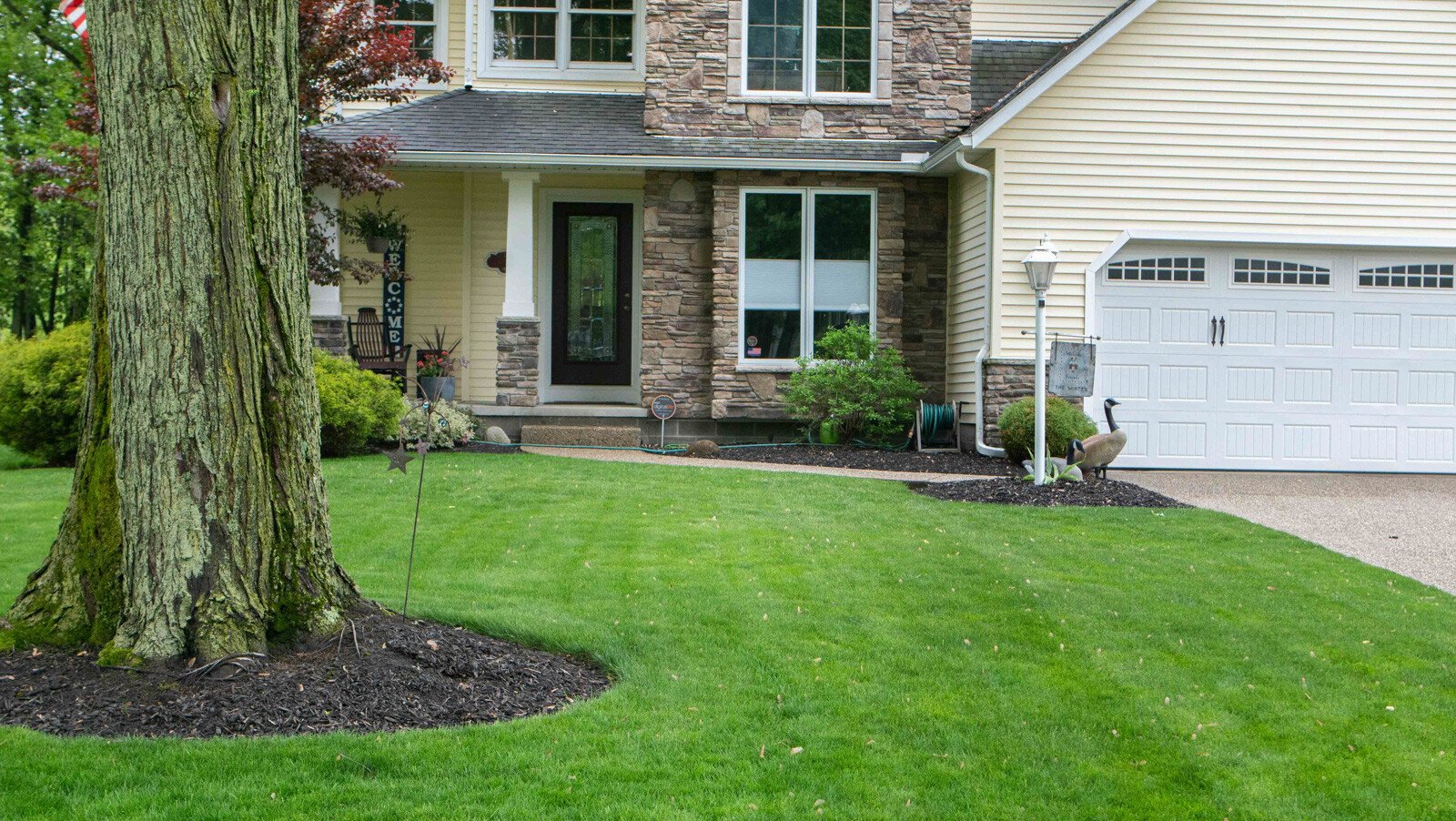 Let's talk about which cool-season grasses fit northeast Ohio best and why so you can make the right choice for your home lawn.
Best Grass in Northeast Ohio
Building a perfect lawn means controlling mowing height, soil nutrients, water needs, and fertilization requirements.
And determining the ideal tasks in each of these categories means knowing what grass types you're growing. Every grass is different and, therefore, has different preferences for care.
What Kind of Grass Seed Should I Use?
The best grass seed for northeast Ohio lawns is actually a mix.

Turf Pride recommends a blend of 80% turf-type tall fescue, 10% Kentucky bluegrass, and 10% perennial ryegrass.

Not only is turf-type tall fescue wear-resistant, but it's also heat-, drought-, and shade-tolerant. This means it doesn't require crazy high amounts of maintenance compared to other grasses that will brown more quickly in summer. It's also a deep green color and thickens up quickly. Turf-type tall fescue takes approximately 10 to 14 days to germinate.

Kentucky bluegrass is a high-quality grass that is fine-textured and grows well in full sun, as well as some shade. It works well for filling in bare spots or damaged areas but can take 10 to 21 days or more to thicken up. It can stand up to Ohio's freezing temperatures.

Perennial ryegrass germinates in as little as 3 to 5 days, making it a good pairing with turf-type tall fescue and Kentucky bluegrass since it will bring some instant green to your yard. It's also cold-, heat-, and drought-tolerant and has a fine texture.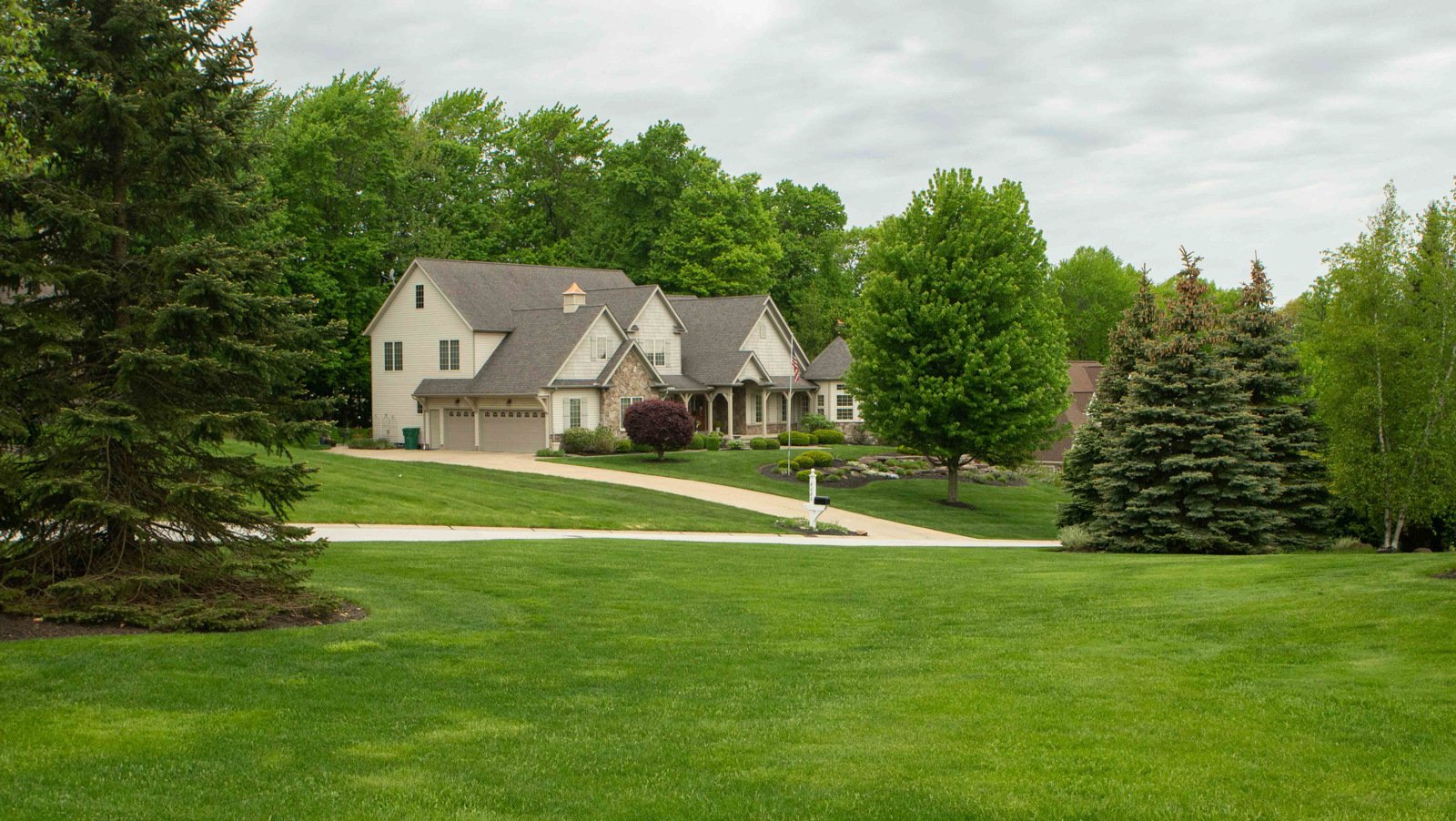 Proper Care for Types of Grass in Ohio
Once you have the best grass for northeast Ohio, the perfect lawn takes the right kind of care.

Your grass seed mix will need about 1.5 inches of water per week, whether from rain, irrigation, or both. Slower, longer periods of watering will adequately saturate your grassroots, helping them grow versus shorter periods of watering.

Mowing your turf-type tall fescue/Kentucky bluegrass/perennial ryegrass mix takes a thoughtful approach as well, especially in the summer. Mow to a 3- to 4-inch height to ensure thick, strong, healthy grass.

Annual aeration and overseeding can help this best grass seed for Northeast Ohio by improving air movement, as well as water and fertilizer uptake. It also reduces soil compaction, which improves root development. This helps your lawn better battle heat and drought.

Proper fertilization is another great practice that done at the right times encourages healthy grass growth. Fertilizer applications starting in early Spring and being applied every 4-6 weeks throughout the growing season will give the entire plant what it needs.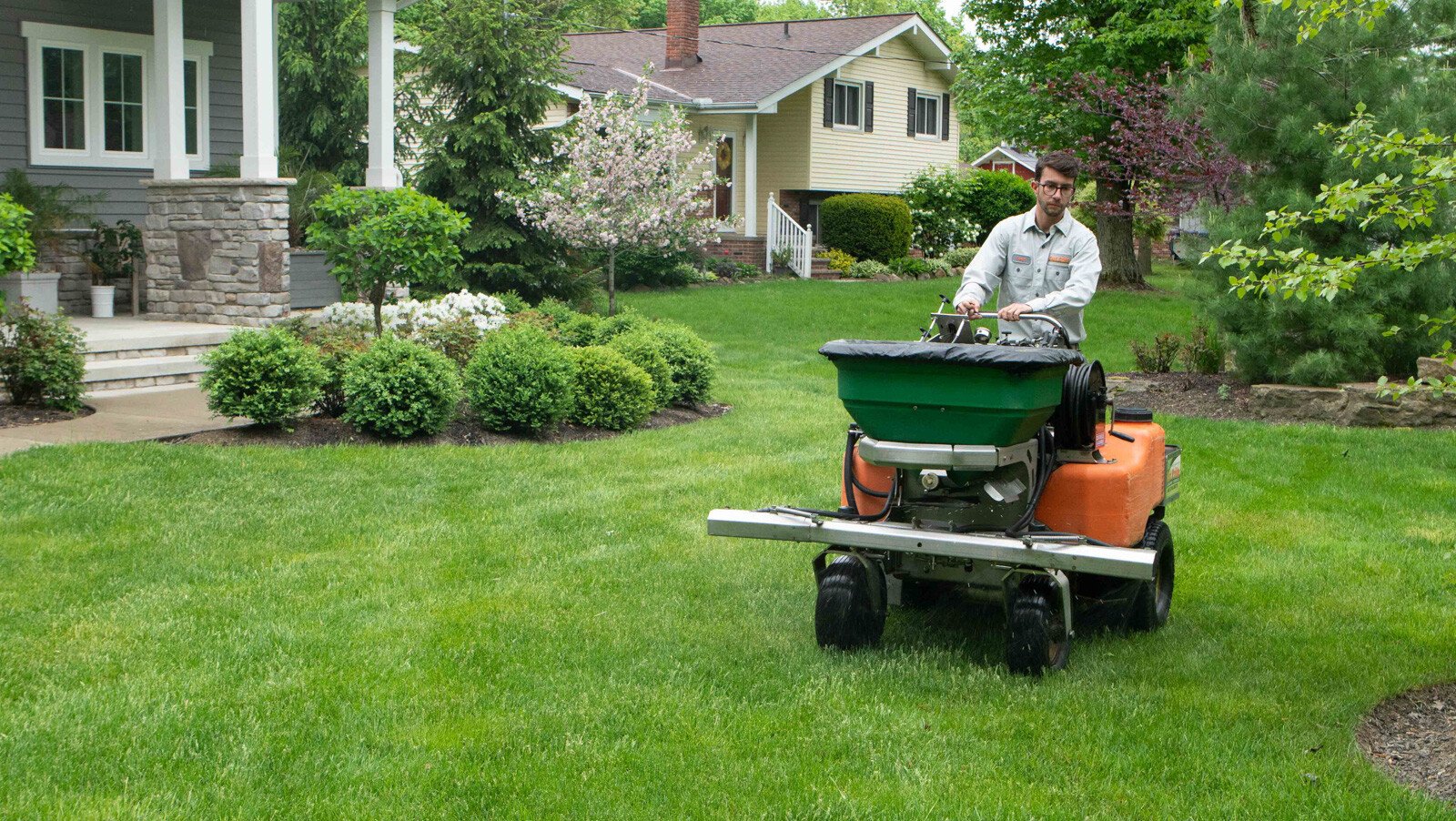 We Can Help Give You the Best Grass in Ohio
You want a thick, green lawn in northeast Ohio, and why not? You should be able to achieve this goal for your home landscape.

We totally get that. Choosing the right types of grass in Ohio and taking care of it properly can do wonders in creating a thriving lawn.

Think you have a weird mix of grass types that aren't working out for your lawn? Wishing your grass would look just as good as the neighbors? Turf Pride can help. We know Northeast Ohio lawns, and with one look we can tell you what your lawn needs to thrive and provide you with some tips and tricks to get that picture-perfect lawn you crave.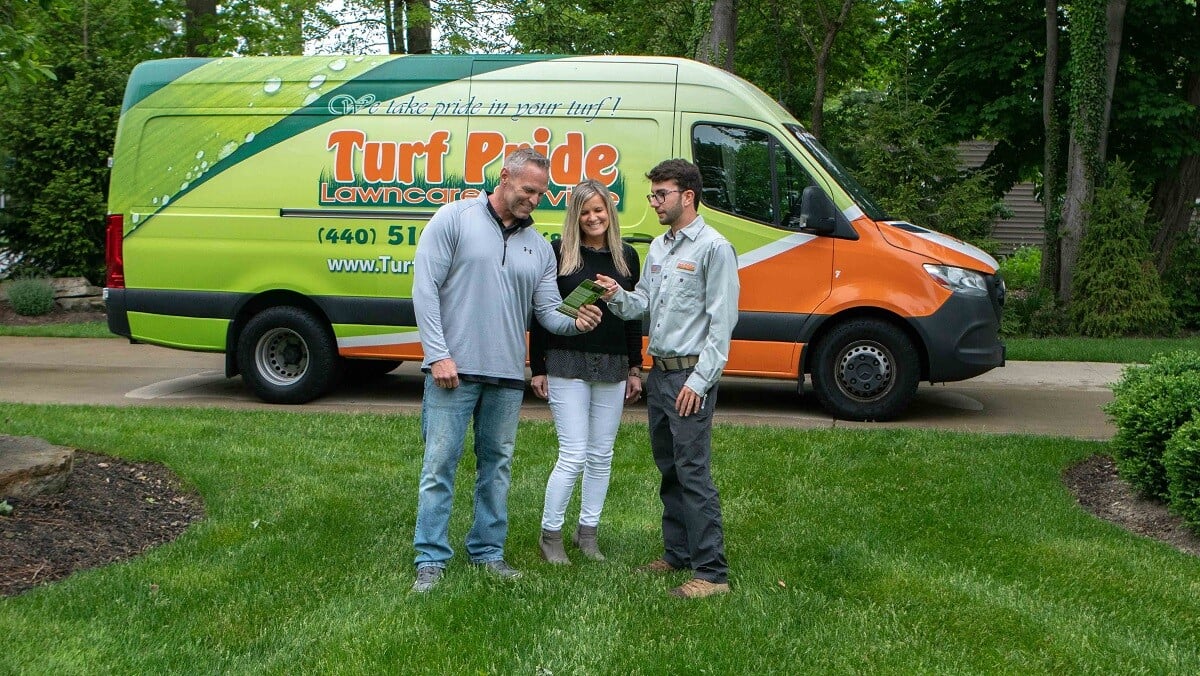 Are the wrong grass varieties keeping you from having a yard you can be proud of? Turf Pride can help. Get started today with a free quote. Together, we'll customize a plan that gives you the most attractive lawn on the block.